How To Play Multiplayer With PPSSPP Games
Does PPSSPP Support Two 2 Players?
How to connect PPSSPP for multiplayer on android has always been one thought that will never skip roms players on ppsspp emulator. When playing games on the play station console, there are always two pads for multiplayer purpose. Lacking multiplayer mode in ppsspp emulator for mobile devices would be a very disturbing issue, but thanks to the ppsspp emulator creator, there's support for multi-playing.
Can android players play multiplayer games on ppsspp? Yes! You can play PPSSPP with 2 or more players. You can use the settings to play PPSSPP games with two or more players.
Also Read: Online multiplayer android games like PUBG Mobile
The ppsspp multiplayer feature allows two or more players to play together on various PPSSPP multiplayer games. With ppsspp multiplayer, now you can have fun and compete with your friends on various PPSSPP games. This feature will be very essential especially, for those who do not have a PlayStation console at home.
Ppsspp Gold Screen
The ppsspp multiplayer now gives you the space and portability to play and compete with your friends anywhere and at ease. Moreover, since you are using your device, the in-game controls and gameplay become convenient for you.
The method can be used to play any PPSSPP multiplayer games like PES 2016, PES 2018, PES 2019, PES 2020, PES 2021.
The settings also apply to other PPSSPP games like Naruto. You can play other multiplayer player games like Tekken 6, Mortal Kombat, WWE SmackDown vs Raw, WWE Smack down vs Raw 2011 WWE 2K17 PPSSPP, WWE 2K18 PPSSPP, Need For Speed NFC, Fight Night Round 3 and other PPSSPP multiplayer games.
Also Read: How to download and play ppsspp games on mobile devices.
In here is a simple guide on how you can play PPSSPP multiplayer games with your friends using multiplayer mode. But first, you should want to know the requirements for it. Lucky for you, they are not much.
How To Play Multiplayer Tekken Game On Ppsspp
Basic Requirements In order To Connect PPSSPP Multiplayer
PPSSPP emulator app.
You must have at least 512MB of RAM and enough storage space
Android Phone with Portable WI-FI Hotspot.
Android phone functioning WI-FI.
And also try avoiding cheats while in multiplayer mode, it could cause hangs, but it does work.
Link To Popular Ppsspp Games You Can Download On Telegram App
Steps To Take To Connect And Play Multiplayer PPSSPP Games
How to play ppsspp multiplayer is very simple. If you follow the steps as given, carefully, you can play any ppsspp multiplayer ad hoc game in your ppsspp emulator app.
This particular settings applies more to PES games. Should you want to try it with other games, follow the same format of connection, and open a room using the Adhoc mode in any game. The ADhoc means multiplayer. If you find it in any game, it means you can play multiplayer with the game.
Turn on your Android's Portable WI-FI Hotspot, and tell your friend or whoever you want to play with to turn on their Wi-Fi and connect.
After that, both of you should launch the PPSSPP emulator app. Don't open the game you intend to play yet.
While on the PPSSPP app menu, Go to the PPSSPP's SETTINGS.
Click on "Networking"
Enable networking/WLAN– Check or tick the same function as PSP's Wlan Switch.
Adhoc server IP address– This is very necessary. The both of you should type 186.148.43.2 as your pro ad hoc server IP address to avoid hanging or the ppsspp from lagging. Below, in the image, where you can see myneighboursushicat.com is where you have to put in your IP address as the host.
Changing IP Address For Multiplayer Connection On Ppsspp
MAC address- click on change MAC address to generate random MAC addresses. Make sure both players use different MAC address. Though it does work when both players use same Mac address, but it might not really perform well when using the gold ppspp app.
Enable Built-in PRO Adhoc Server- Tick only if you're the host (the phone that enabled Portable-Wifi-Hotspot).
Connect PPSSPP multiplayer.
After that, start the game. If it lags, use and increase 'Frameskip.'
After that, go to pes match selection and loading menu, and look for where you have the Adhoc multiplayer option, and then select it as can be seen in the PES 2016 game screen as seen below.
Chose or select Adhoc by pressing X button.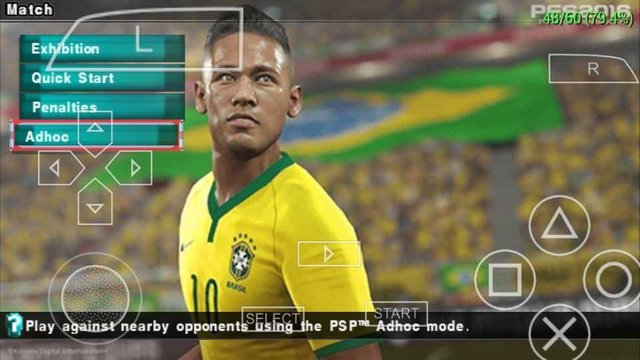 Pes 2016 Multiplayer Selection Screen as seen at Steemit.
The host should "Make Room" while the other player should Search For "Match Room" as it will appear in the next screen after clicking on the adhoc button.
Connect PPSSPP multiplayer
Make sure you are the one setting up the room if you are the one who turned on the hotspot, i.e. the host. The other player should Search For Match Room. Always remember that the host is the one that turned on his hotspot, while the other player connected via WiFi. It could get simpler if you create the hotspot and WiFi connection between you and your friend before opening the ppsspp emulator app.
After successfully setting up the room, choose your preferred teams and enjoy the multiplayer mode.
How To Fix PPSSPP Multiplayer Connection Issues
There are usually some delays in the connection. In some cases, while trying to connect the ppsspp multiplayer mode with your friend, you might experience some connection issues like the 'unable to find host' or 'host unable to create room'. The issue sometimes could be from your end or may not.
To confirm the problem isn't from your end, simply recheck the ppsspp emulator multiplayer settings used above just in case you may have made a mistake with the settings.
If everything's ok with the settings, but the issue still persists, do this to fix the ppsspp multiplayer connection issue.
Though the connection do take time in some cases where the phone network connection is not strong, to fix it, simply exit the ppsspp emulator app alongside your friend.
Turn off your hotspot, and friend's wi-fi.
After that, turn on your hotspot and ask your friend to turn on his or her wi-fi and connect.
After creating the connection, open the ppsspp emulator app and start the game.
Go to Match and to where you find the Exhibition, other options, and the Adhoc option as seen in the image above.
Create or make a room and the other player should Search For Match Room.
Once connected, proceed to team select and enjoy your ppsspp multiplayer game.